Announcements

Winter getaway to Fiji....Hotel and airfares.....Comp to start in July.... details soon.....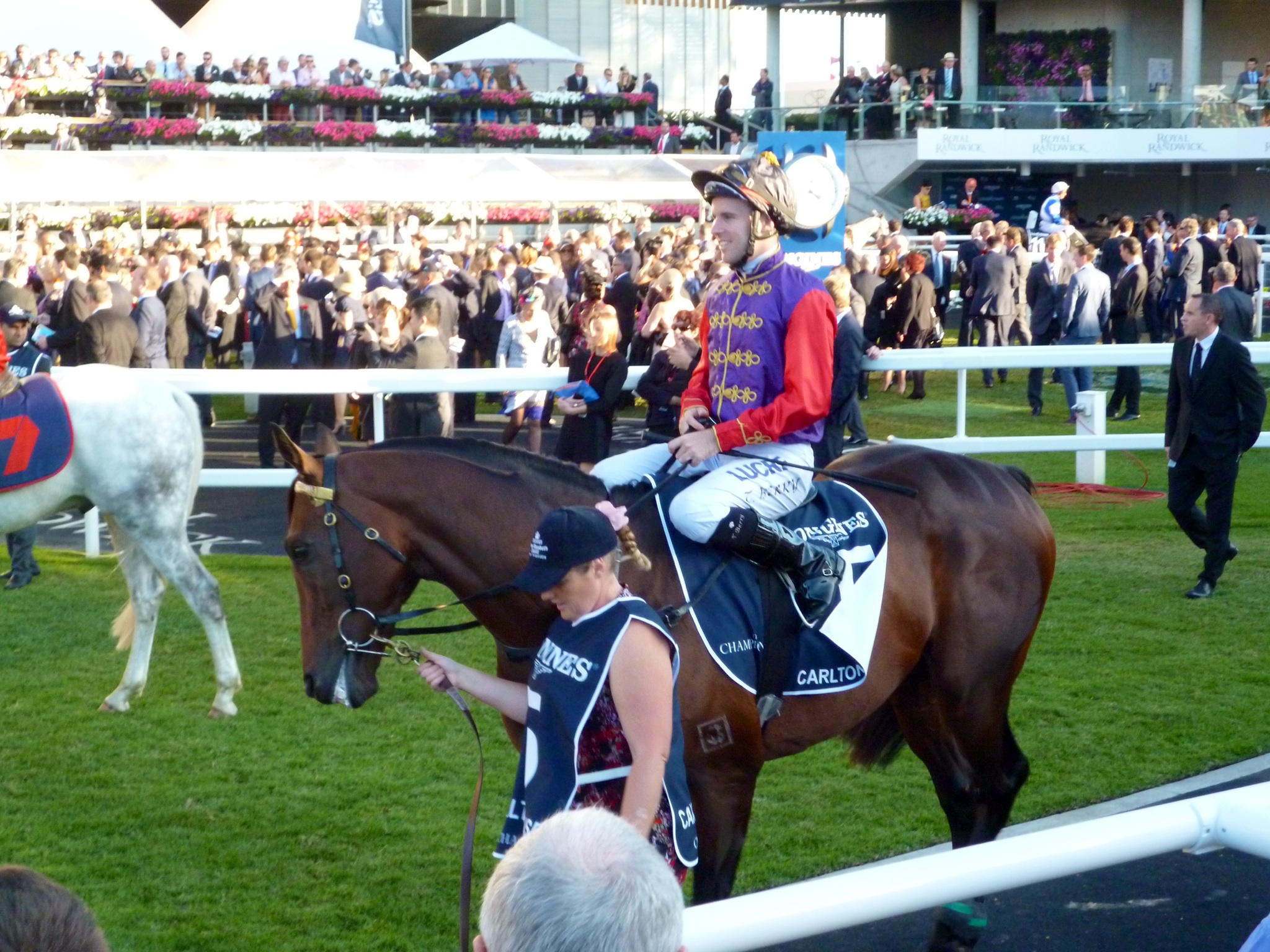 Content count

418

Joined

Last visited

Days Won

2
About La Zip
Rank

R91 - not quite Grp level

La Zip

reacted to a post in a topic:

Thanks everyone

elvis

reacted to a post in a topic:

New Stallions 2018

From the limited opportunities NZ provides for a stallion like Dalghar, I don't think he has done too badly. His time was used as an analogy Huey, if someone wants to boast about running time, then surely Dalghar can't be beaten? His stock are not at their best on heavy ground, Scott Base could be anything, he got two fabulous fillies, Miss Dalghar and Blue Shadow, they both have issues, his best of course was Astara, who was absolutely ruined, NZ's fastest ever 2yo over a mile breaking the track record at Ellerslie for 2yo's....., sent to Oz and crucified.......was a wonderful free going front runner, turned into a backmarker being asked to run home in 32's from where she was being positioned just to run a place? idiots in Australia too Huey.......Her demise a tragedy for her Sire.

La Zip

reacted to a post in a topic:

New Stallions 2018

You said he has a better race record, now you are backtracking, the other two legends were unraced, his pedigree can't hold a candle to the other two, and as for Kembla maidens, when you spruke times, every thing is relative, 1-22 means zilch, it's a good time but not eye raising, you want to talk times, use Dalghar.....fastest horse to go to NZ over 1400, 1-18 at Longchamp, now that's eye raising, and he stands for not much at all, value personified......no more from me on this, I just hate to see horses head to the knacker or shot in the back paddock, and indiscriminate breeding promotes that.

If you want to make comments like that, please read this, it says it all in answer to your 'silly' observation, facts don't lie.; When filly triple crown heroine Meld delivered a colt by dual Classic winner Never Say Die in 1961 there must have been high hopes for his future, but a bone problem meant that his future did not include a racing career. Mellay, as he was called, was not going to appeal as a stallion in Britain or Ireland, but New Zealand had long provided an outlet for well-bred horses surplus to requirements at home, and away he went as a four-year-old to the Anderton family's White Robe Lodge Stud in Mosgiel, in the south island. There were no great expectations for Mellay there, but he duly became highly successful, heading the sires' list on two occasions. He died at the early age of 13, and his second title was earned posthumously in the 1976-77 season, when his stock broke a 30-year-old record, registering 133 victories. He was renowned as a sire of stamina, his daughter Princess Mellay exhibiting that quality significantly when she became the first dual winner of the two-mile New Zealand Cup. In her second win her runner-up was Trelay, also by Mellay. The sire also got a Caulfield Cup winner in Swell Time and an Auckland Cup heroine in Rose Mellay. Ironically, Mellay's success down under was a factor in the transfer to Australia of Meld's outstanding son, Derby and Coronation Cup victor Charlottown in 1976. The Classic star never matched the record of his unraced half-brother at stud. An unraced horse of impeccable lineage had done the trick once for White Robe Lodge, so why not try the same ruse again? Noble Bijou was about as well-bred as a horse could be in the 1970s, a son of Vaguely Noble out of Priceless Gem, the dam of Allez France. But he was desperately unsound and there was never going to be a chance of his having a racing career. Like Mellay, he found the ideal home in New Zealand, and he enjoyed much of his success with the products of Mellay mares. I saw plenty of Noble Bijou's stock in action on a visit to New Zealand, and they were uniformly tough, honest individuals, competitive on any ground, typically best at distances beyond a mile. Noble Bijou headed the sires' table four times, the first three consecutively, and in the 1992-93 season he notched an amazing double, also finishing on top of the broodmare sires' list. Among his progeny were 65 stakes winners, including a Horse of the Year in The Phantom, whose brother The Phantom Chance, successful in a Cox Plate, was a joint-champion Australasian three-year-old. One of his daughters delivered Melbourne Cup victor Tawriffic.

Yes you are correct Dibbles, indeed, Highly Recommended is the stallion I meant, I stand corrected.

Huey, they run 1-22 in flaming maidens here in Oz! they run 56 for 1000 at Kembla in a maiden....holy moley, breeding to race is one thing, but so many will not even make it to the races, trial, tail out and get sacked, and you know where to don't you? poor buggers, try to improve your product Huey, not weaken it.......SI used to be strong, Mellay, Noble Bijou, Gatekeeper,Burgundy who was sent north for God's sake...... just to name a few, wonderful stallions, but to justify a two thousand dollar service fee when your racing is in such a poor state, no go zone Huey, think it through.....you're a clever bugger, you know it makes sense.

Breeding for the knacker! 1-22, they run that in b75's all he time over here, two grand up in smoke...spin is fine, we are used to it, rewarding mediocrity is another thing. Good racehorse, maybe, but to stand at stud, no way Jose.

La Zip

reacted to a post in a topic:

Four Corners Aust program

RR, Asia is NZ racing's dirty little secret......bloodstock agents and many trainers have gotten rich selling to Asia. Hats off to the beautiful few that repatriated their horses once their careers ended up there.....the majority were shot and fed to the zoo animals a few years ago, now they are euthanised more humanely. You mention Macau, it used to be the worst offender, now one must wonder and worry for the welfare of horses destined for mainland China......Those that are lucky enough to have responsible former owners in NZ and Australia who inserted a repatriation clause in the sale contract, are just that, lucky......the owners/trainers/breeders and bloodstock agents that sell and export knowingly to that jurisdiction will receive Karma's wrath.....we see it all the time, however they won't accept that. Many of us earn our living from these beautiful creatures, it's upon us to give them the best outcomes we can, as much as it pains us to witness programs like Four Corners that out mal practice and terrible animal treatment by so called human beings, it's necessary to alert the mainstream of the machinations of the racing industry........hopefully the dopers over here in Oz will get what's coming to them, and to hope that a Living Legends is on the agenda of NZRB, plus media gets onto the neglect and cruelty issues omnipresent in NZ......hopefully.

One thing, at least in Oz every race at every meeting has a financial contribution inc toward horse welfare.....one percent of total prize money! so midweek city races in SYD contribute 400 dollars toward the welfare of all thoroughbreds!......now 10 years ago that was unheard of, so progress......what about NZ? is there a living legends in NZ, a lovely property that rewards the high achievers of the equine world with a worthy retirement?...like they have in MEL........funded in part by public donations........what about the thousands of Kiwi horses that go up to ASIA, are they repatriated back to their owners farms in NZ when the ASIANS are finished with them? who pays?.......there are many Kiwis and Ozzies with a conscience, and part of the sale contract to ASIA is the clause repatriation is mandatory........who polices that? and who checks on the welfare of the retired horses?........I'm very interested in the answers as I'm sure there will be contentious and vicious defenders. There is a temporary imposition in AUS that horse's cannot be repatriated directly into AUS from HK, they must come back via NZ quarantine, and that is hurting the repat program here.

La Zip

reacted to a post in a topic:

Any Thoughts On Super easy

La Zip

reacted to a post in a topic:

All The Best Pitty

Really, only Mr Waller? Nature Strip is a sprinter...not something that needs twice round on the sand every morning....plenty of good trainers..perhaps Hayes or McEvoy....or even Mick Price....all superb trainers of SPRINTERS

I know of one former AUS jockey who rode an AUS horse in the Kings Stand Stakes at Royal Ascot who was flown up there by the connections in economy!......he paid for the upgrade home himself. You would think the owners would cough for business class wouldn't you?......24 hours in economy and then expected to to do the business? in this case I'm in the jocks corner.

La Zip

reacted to a post in a topic:

Brian DL's Informant Article $1.0m disgrace

Before my time Zelda, before yours too I hope.......he never shouted either, maybe in the pub, not in the box.

Jack Styring, legend, John Tapp, legend, Wayne Wilson, legend, Geoff Mahoney, legend, never ever raised their voice, yet still evoked excitement personified ...IMO. Mark Mac the best I heard in NZ, trot man though, poor bugger, destined to define cheats on seats, only on loan to gallops, talent wasted, should be calling SKY AUS.

Check your facts, I posted on 11th June, the horse had won at Randwick [inner track called Kensington] by nearly 4 lengths......that's stressing them, on that track....he wins again today at Rosehill, up in company and on a track that still did not favour him, he is a very smart horse, so that's why I'm praising the stallion that is very very underrated. They go super over here in Oz, I wonder why?

After a hiccup last start on a very heavy track, Easy Eddie did it again today at Rosehill. Not such a good ride on Lisdoonvarna in an earlier race....and a couple of placings in NZ. Not the worst stallion around....