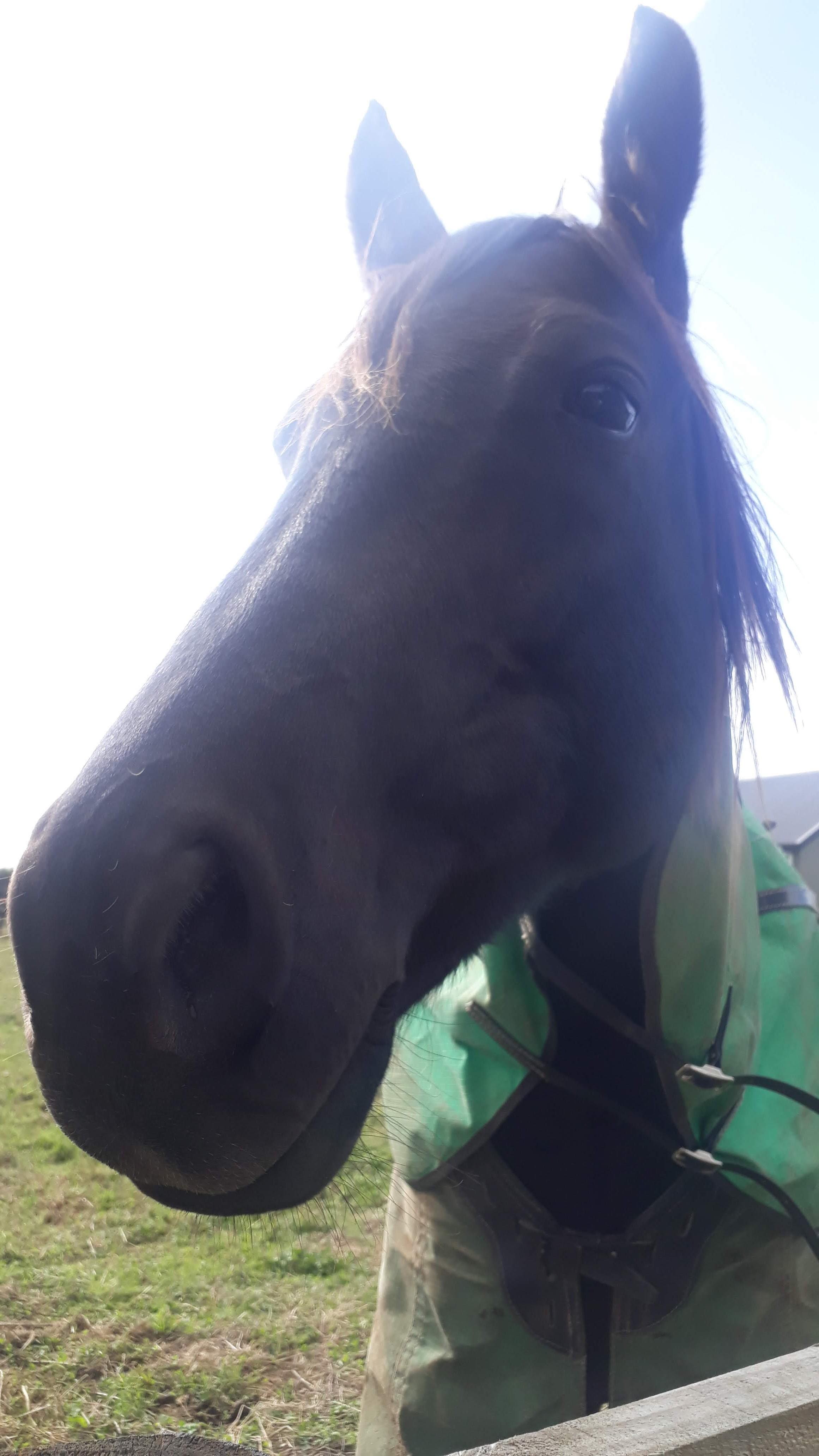 Content Count

61

Joined

Last visited
Recent Profile Visitors
The recent visitors block is disabled and is not being shown to other users.
Baz (NZ)

reacted to a post in a topic:

jockeys/riders safety

Red Rum

reacted to a post in a topic:

jockeys/riders safety

Yes, they certainly are! They risk getting those injuries so regularly, I have so much respect for their work!

Definitely plenty of head injuries /concussions with riding. Only 1 fall I know of where a mouthguard may have helped: a friend who came off a jumper that tripped on landing and landed chin first, then continued to slide forward-she lost a couple of front teeth but the entire chin detached from her jaw which was also broken. Broken scapula and ribs too. The missing teeth were the least of her worries; she needed plastic surgery to re-attach and fix her chin up. Pretty uncommon way to land from my experience(normally hit top or side of helmet covered part of head) but thats not to say it doesn't happen.

Yes, we are going to be living with this for some time aren't we so surely there are some possible solutions under level 2. I see too that cinemas are allowed 100 in each cinema so long as they are socially distanced and don't mingle?! Racecourses have plenty of spaces they can seprate off don't they, though I appreciate that takes some organising which costs in wages. Heck as a spectator after missing another chunk of racing, I don't know about others but I would happily pay a fee to get the chance to be on course. As a start though, if limited to 100 and more requests from owners are received than numbers allowed why not just draw the names out of a hat? Remain seated at a set table when inside, 2m distance outside and no mingling with jockeys, owners, strappers and trainers (keep that 2m distance at all times and seperate areas)? Suppose there might be uproar from those who miss out though!

Pam Robson

reacted to a post in a topic:

A sad start to what could have been a great day

Drug and alcohol testing is getting more and more common, most companies have a zero tolerence though so half the legal driving limit might be considered lenient these days. Shane McAlistar has a very valid point. It would make sense to test prior wouldn't it, but random and or after incidents also seems to be standard for jobs such as truck driving(not saying that's right, probably a cost thing). As an industry they might also come up short of drivers if all were tested prior to getting in a cab of a 10 tonne or so truck.

Yes, I thought for most in Nz now it was essentially a reality of paying for ownership because you have a passion for racing. If you don't have a passion for it then I can't see why you would want to pay for it. Not so long ago minimum stakes were only $5000. A small handful get lucky with a repeat Group 1 winning horse, and even then if syndicated chances are the horse has to go to Oz to chase the real prize money. If it doesn't get sold to Oz or Hong Kong first. With the Foxbridge example is it any wonder most choose to take those offers from overseas? Leaving some leading trainers to consider themselves "pre-trainers". Seems to have been quite an influx through eventstars and on gavelhouse. That could actually make it a good time for some to get involved or increase numbers for less outlay, but I think the true drop off will come, just not until later. If current stakes are only sustainable because of a bailout, then the longer term reality is there is no certainty on stakes for the 2021/22 season.

Pegasus 9

reacted to a post in a topic:

Cheerio Champ....back with your old mate....

What a horse. Hard to have dry eyes when you see what him and Graham did together.

nomates

reacted to a post in a topic:

The Good Old Days part 3

Boss Hogg

reacted to a post in a topic:

The Good Old Days part 3

Patiti

reacted to a post in a topic:

The Good Old Days part 3

Sounds fantastic! I have read a bit about that, and seen the photos of the packed course. One of my older friends talks about the tough thoroughbreds of that era too. Would have been great to experience and see

Memphis2

reacted to a post in a topic:

The Good Old Days part 3

Yes, I have sadly been at Trentham on a sorry winter weekday, where I struggled to find 5 ppl to count on course(excluding members which maybe scraped in at 20 odd). It really made it hit home just how close to dying the industry is. I had many great days on course at Awapuni as a kid in the 80s and 90s, highlight always being the boxing day races with bouncy castles etc-there was always good family entertainment on course and a decent crowd. Sometimes they would run competitions for kids as well. Later on my aunt and uncle had a homebred racehorse who had a few wins there which always added excitement. Also have fond memories of watching Castletown with Dad, winning from the back on free to air tv. While Mum was at work he would be happily placing bets over the phone with the local tab. Watching Winx win her 4th Cox plate after a day at Trentham was a memorable moment, with good company. For me, more recently having moved to the Waikato I have loved being able to go to meetings like Legends Day, Waikato Cup Day, and a real highlight was Karaka Millions, boy what an atmosphere! There is life left there yet. The bet/win would have to be the filly I have a share in winning her first start. Certainly got me yelling more than anticipated. Great topic, I enjoy reading the stories.

Yes, I did read an article on the endless concrete recently. All of the above certainly provides a very logical explanation. Also I go there for work on occasion and the local perception around the end of June was certainly that plenty of rain had fallen recently and yet the reserviors were no fuller. The engineer I work with there had also been talking to a watercare engineer, who said when they get water from the Waikato river it has to be treated 10-12 times, and it is still dirtier than what comes out of the sewage treatment plant

I personally don't like this overarching theme that still seems to be getting pushed in nz. Lockdown has just made it more obvious too. Many of us prefer to live out of the big cities but then have to commute to and from work, due to a lack of jobs in smaller towns. Also a necessity due to cost of housing eg who can afford to buy a house in Auckland? During lockdown many people worked from home, just as productively, if not more. But lo and behold there is a govt directive that everyone must go back to their inner city offices to support central businesses. Not because it's better for us, or better for LOCAL economies, or better for the environment, but because it supports inner city businesses. Now we can all see clearly the 2 hrs or so daily we waste on commuting backwards and forwards, and what does it gain? In most cases zip. So I agree, Foxton would be a great little hub if investment was directed there. Affordable housing, good for the local economy, jobs for locals or would encourage more to move there. Surely we want to be taking pressure off struggling infrastructure in cities, not adding to it...looking again at Auckland and their water woes as an example.

Yes, govt depts are getting told to be prepared for a swift shift through the levels, being told to work from home again which doesn't bode well unfortunately. Essentially the same messaging as last time. Seriously hope we are not going to L3 or 4 but indications are not good.

Yes, if the Americas Cup crews can sail because they are considered "commercial"...

Not doing racing any favours is it. Whats even more irritating about it is there seems to be some perception that those that work o n the ground in the industry will actually benefit from the bailout, as opposed to the truth that its actually bailed out NZRB/RITAs mismanagement which will in the meantime continue until racing in NZ is dead once and for all.

Yeah got to be the race closed too late and someone managed to get a decent bet on a foregone conclusion. 11 seconds is a decent lag-races get closed by Aus unless the links in the 1980s background system they never upgraded drop out. Could be that or the whole system just running too slow. And they still can't see where they went wrong.

I wonder if it was removed after scratchings due to the size of the fields? Just I see r1 ended up being a 3 horse race and r2 a 4 horse race?